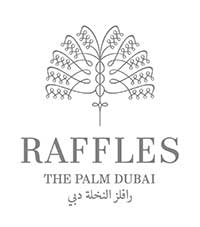 Raffles the Palm Dubai is on the western crescent of Palm Jumeirah, the world's largest manmade island and archipelago. This luxurious five-star hotel with 391 spacious rooms, suites and villas is embellished with hand-crafted Italian touches and offset by carefully selected amenities to complete the atmosphere of elegance. Guests can enjoy panoramic views, a private beach, state of the art entertainment and recreational facilities, including specialist boutiques, a VIP movie theatre, signature and private restaurants complemented by exquisite banqueting and conference spaces.
When visiting Raffles, guests will discover the individual personality and story offered by the hotel. At the essence of every Raffles is the delivery of thoughtful, personal and discreet service to well-travelled guests.  Raffles Hotels & Resorts is an award-winning, luxury international hotel company with a history dating back to 1887 with the opening of Raffles Hotel, Singapore.  The portfolio currently comprises eleven luxurious properties, from secluded resorts to city hotels in key locations around the world.
THE POSITION
Organizes kitchen operations and prepares and serves a range of dishes, whilst supervising junior members of the Kitchen Brigade. Promotes the work culture and the company's core values.
DUTIES & RESPONSIBILITIES
To report for duty punctually wearing the correct uniform and name badges at all times

Organize shifting in the section with regard to mise-en-place production and its service

Give tasks to Demi Chefs and Commis Chefs and check that they are carried out in the correct manner

Write daily wine, dry store, food requisitions and kitchen transfers on the appropriate forms for the approval of the Executive Chef / Executive Sous Chef in order to achieve the high stock rotation desired in his/her section.

Maintain good colleagues' relations and motivate colleagues

Ensure that training on a one-to-one basis has been carried out and comprehended.

Check on a daily basis food preparation regarding portion size, quantity and quality as laid down in the recipe index.

Responsible for completing the daily checklist regarding Mise-en-place and food storage.

Attend daily and monthly meetings with the Chef de cuisine and other meetings as requested by the Executive Chef / Executive Sous Chef.

Report any problems regarding failure of machinery and small equipment to the Chef de cuisine and to follow up and ensure the necessary work has been carried out.

Check the main information board regarding changes in any Banquets or other information regarding the organization.

Keep the section clean and tidy.

Pass all information to the next shift

Accidents and sickness to be written in log Book and report to the Executive Chef / Executive Sous Chef.

Check Chef de Partie / Demi Chefs / Commis Chefs on his/her section:  e.g. regarding personal hygiene

Assist the Chef de cuisine in composing new recipes and menu ideas.

Have a complete understanding of and adhere to the company's policy relating to fire, hygiene and safety.

The above description is not to be regarded as exhaustive. Other tasks and responsibilities of a broadly comparable nature may be added on a temporary or permanent basis as appropriate
QUALIFICATIONS & REQUIREMENTS:
Reading, writing and oral proficiency in the English language

Oral proficiency in Japanese language

Strong leadership, training and motivational skills.

Strong organizational skills and ability to work in stressful fast paced environment.
EXPERIENCE:
Minimum 8 years Japanese cuisine cooking experience

.